UNSTOPPABLE

PRODUCTS.


UNBELIEVABLE


DEALS.
0%


APR
FOR 72 MONTHS*
* With approved credit. See Below For Full Terms.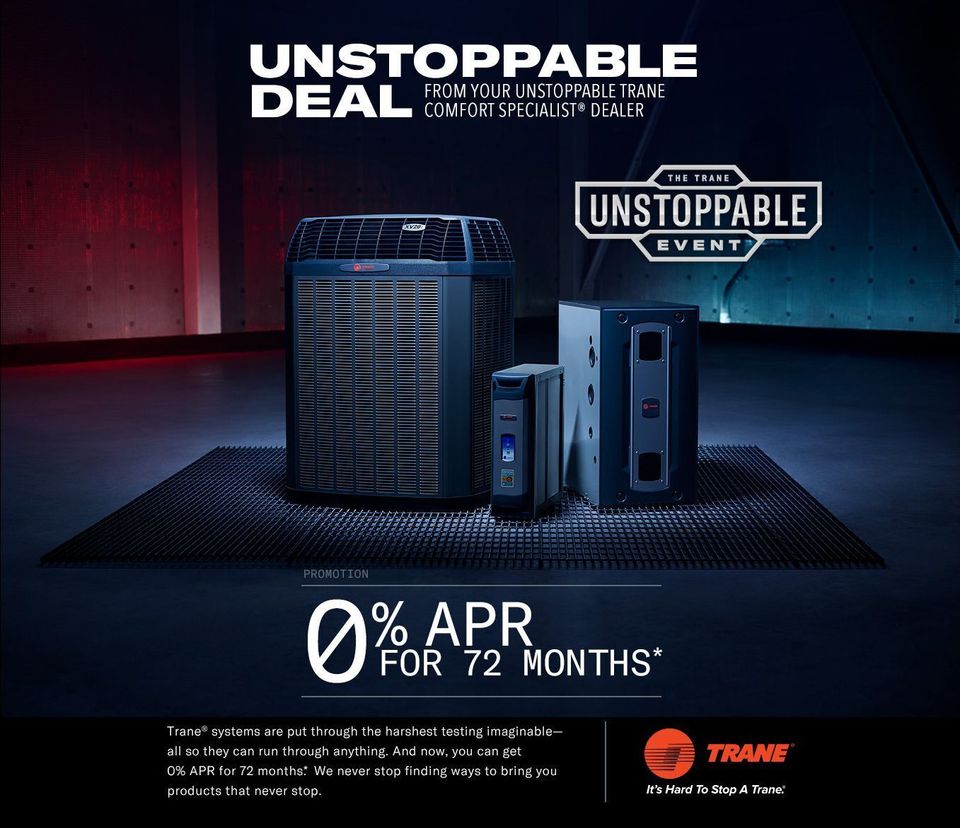 Choosing a Trane gives you and your family the feel-good experience of having a system that's designed to provide consistent year-round comfort. Combine that with 0% APR for 72 months on qualifying purchases and you have an offer that feels just as good as your home's air.

Get started in just three easy steps:
1. Fill out the form to take advantage of this limited time offer
2. An HVAC expert will contact you to set up a  FREE, zero obligation in-home consultation, where we'll assess your home's current system
3. After the assessment, we can help set your home up the perfect TRANE system fit for all your needs

*The Wells Fargo Home Projects credit card is issued by Wells Fargo Bank, N.A., an Equal Housing Lender. Special terms apply to qualifying purchases charged with approved credit. The special terms APR will continue to apply until all qualifying purchases are paid in full. The monthly payment for this purchase will be the amount that will pay for the purchase in full in equal payments during the promotional (special terms) period. The APR for Purchases will apply to certain fees such as a late payment fee or if you use the card for other transactions. For new accounts, the APR for Purchases is 28.99%. If you are charged interest in any billing cycle, the minimum interest charge will be $1.00. This information is accurate as of 6/1/2022 and is subject to change. For current information, call us at 1-800-431-5921.

**See your independent Trane Dealer for complete program eligibility, dates, details and restrictions. Special financing offers valid on Qualifying Equipment only. Offers vary by equipment. All sales must be to homeowners in the United States. Void where prohibited.